Having a strong local search presence is vital, especially with the rising competition in the market today. Each niche is growing, and it is difficult to stand out among your competitors. 
In this guide to local SEO, you will learn the proven local SEO tips you can use to rank in Google search results and local maps. But before we can delve into the local SEO tips, let's know first what local SEO is?  
What is Local SEO?
Local SEO is a collection of behavior and techniques to increase your exposure on Google and other search engines while people are searching near your physical location or when a search contains a particular location. This ensures that people around your area can easily find your business if you have a local business.
If your business is having a hard time reaching customers, then building your online presence through local SEO can benefit you.
But how can you do this? The answer is simple, incorporate local SEO in your small business.
How To Do Local SEO For Small Business
Apart from traditional SEO, there are a number of local SEO ranking considerations that small businesses and even larger franchises must consider when competing for top rankings for localized keywords. 
So, how can you set yourself apart from your local rivals?
Some people give different ranking factors more weight than others, but as a safety net, make sure that all of your boxes are checked and you have an SEO company to provide you SEO services. Below you will learn some local SEO tips you can integrate to boost your business visibility in Google search results and local maps.
1. Start With Google My Business and Optimize it.
Local SEO would not be complete without having a Google My Business (GMB) and not optimizing your profile on this platform. If your company does not have a Google My Business profile yet, you are tremendously missing the opportunity of making your small business visible to people on the internet. 
In short, Google My Business is vital in your small business. 
Why do you need Google My Business account? 
A Google My Business account is the only way you can get ownership in your Google business listing, which is referred to as your Business Profile by Google. Google maps and Google search local results have Business Profiles. 
Your free Google business listing has more capabilities than you can realize. It highlights the best features and makes it simple for customers to find, learn about, and contact your company when properly configured.
A Business Profile on its own only provides a limited amount of information about your company. 
However, make sure when you start creating a profile on Google My Business, you add all the information needed, such as services, menu items, information that distinguishes your company, and photos.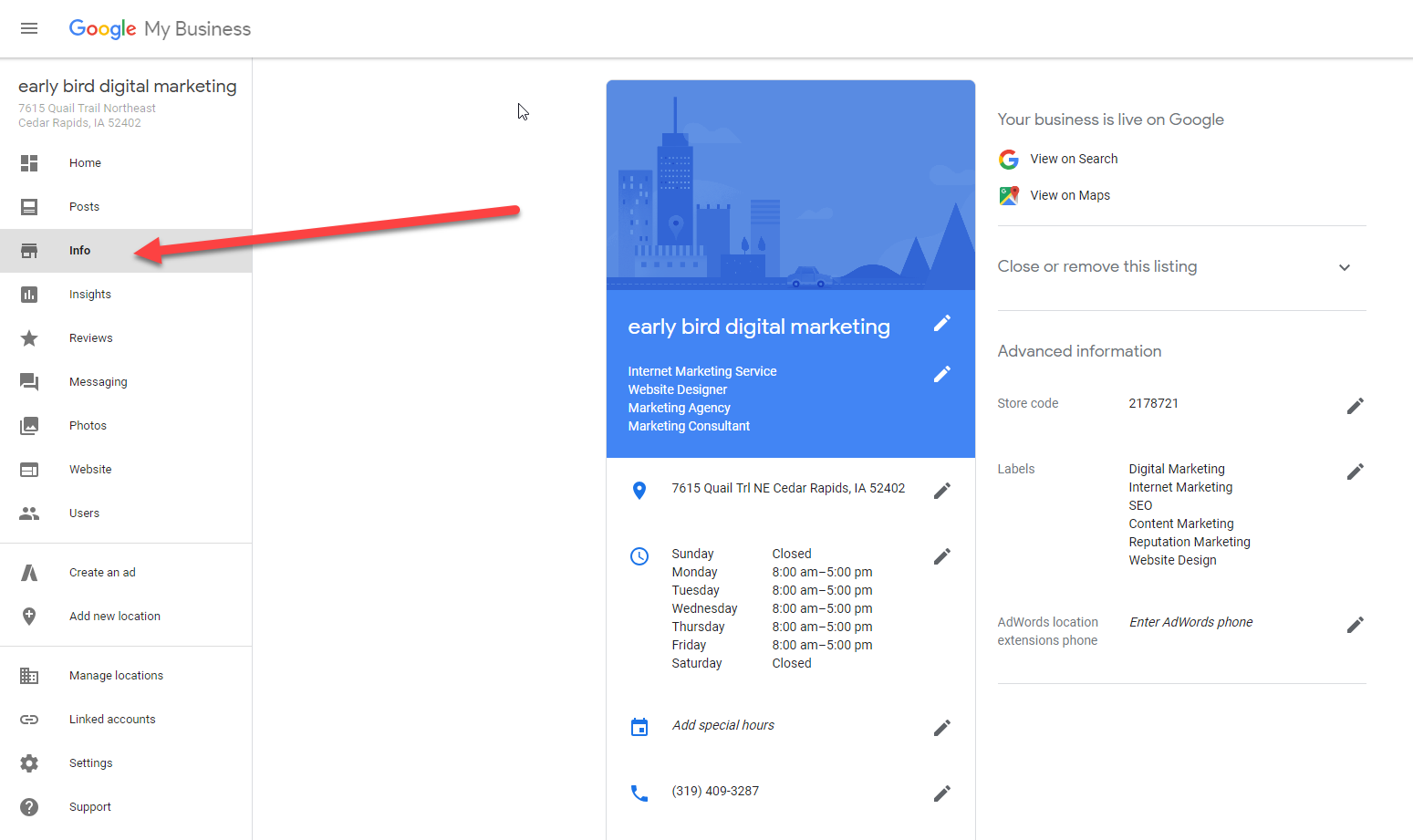 According to Google, "Businesses with photographs receive 42% more requests for driving directions to their location from Google users, and 35% more clicks through to their websites than businesses without photos."
You'll also use Google My Business to make any required edits and updates.
You can also add keywords into your Business Profile and perform other optimizations through your Google My Business dashboard to help it rank in local results. By adding an excellent and unique keyword, you can compete on google search engine and can be ranked along with other competitors. 
What happens if you don't have a Google My Business account?
You risk losing customers. Without having a Google My Business account, you will not have access to your business information and will not have control in editing or updating it. Thus, incorrect information about your business might be posted online, and customers don't trust a business with false information. 

You lose SERP real estate. Google assigns a consistency rating to Business Profiles, and a Business Profile by itself is insufficient. A Google Business Profile, on the other hand, can be designed to rank above competitors for related keyword searches when managed via a Google Business account.

You lose out to competitors. How can customers trust you to look after them if you don't look after your own business? They'll be much more likely to click on and interact with a Business Profile in the search results that contain a lot of interesting information and appear to be involved.
The Google My Business dashboard will help you learn more about your audience and local search results. You can see the questions customers use to locate your Business Profile, whether they found you on Google Maps or Google Search, a summary of actions taken on your listing, and how your images are doing relative to other profiles in your category.
Optimizing your Google My Business will benefit your business, so take the time to create an account and fill out the information.  
2. Keyword Research
One of the first moves, and one of the most critical SEO factors, is to conduct keyword research in order to find optimization opportunities for attracting the right visitors to your website.
Most companies understand the value of keywords, but keyword research for local SEO might be a little different. They will have more geo-specific keywords, for example, "Perth lawn care," 
rather than using the keyword "lawn care," making it easier for people to locate local resources.
Think of keywords you can use for your website. 
Do your research depend on the business you have. There are so many keywords, but finding the right and powerful keywords you can use for your business will help you rank well in search engine results with the best traffic for your ideal tourist. 
3. Build Local Links Back To Your Website
It's important to build high-quality links from high-quality local websites if you want to get high visibility in your local area. Links are a well-known SEO ranking element, and their significance does not diminish when switching from organic to local SEO. 
The best sources of inbound links are: 
Local news

Business pages 

Local blogs

Local business directories
Link building is an efficient way to improve local rankings. It's worth noting that all of these activities improve the company's standing and credibility, so it's a win-win situation!
Moreover, you can also let your local newspaper or media outlets know about your business by sharing relevant content. This is one way you can let your community know about the updates on your business.
4. Manage Online Reviews
Many companies are hesitant to start building and managing online reviews from the customers, but we all know that customer reviews greatly benefit business especially local business. By having online reviews, it will help your business: 
Rank higher in local search

Build trust with customers by interacting

Showcase brand personality from your answers
With the number of reviews from customers, your business will rank higher in local search as many people are talking about your brand and services online. Of course, by taking the time to answer your customers' reviews, you can build a great relationship with them,
When customers see that the brand gives importance to their opinions or feedback, customers would like to see the changes you can make to make your business better. Your business' brand personality reflects how you treat your customers online.
Is it easy to get more online reviews? 
Yes and no.
Fortunately, there are so many ways to encourage your customers to leave a review in your business, such as:  
Asking them face-to-face

Email customers

Adding the links to your review profile (business cards, receipts, thank you cards)
Of course, you can even receive negative feedback. It's never a good idea to ignore a bad review. Instead, respond to them politely but truthfully in compliance with Google's review guidelines.
5. Improving Website For Mobile and Site Speed
People can easily use their mobile devices to access the internet. Even those who aren't carrying their phones right now have them within reach.
This is fantastic news for your business and website. 
Mobile devices make it easier for your existing and potential customers to visit your website. That means your site should be simple to use on a mobile device and load quickly.
According to research, if you make your tourists wait just three seconds, half of them will leave your site. According to another report, pages that load in less than two seconds have a 9% bounce rate, and pages that load in more than ten seconds have a 65% bounce rate.
Investing in a good website with an excellent web design and that is mobile-friendly and fast-loading will surely bring more customers! 
6. Use Local Information On Your Website.
Creating a website does not only mean having content about your products or services and displaying them. If your business targets local customers, make sure you have details that can show that your business is around their area.
Customers like to search small businesses using the keyword "near me." 
Adding your complete business address on each page of your website and putting appropriate local keywords, which you can use in your title, meta descriptions, and contents, can make a big change in your business. 
Of course, don't forget to add your Google + business page so that they can see the reviews and photos of your business.
Always strive to create original, high-quality content that is tailored to specific locations. This local content will help you stand out to potential customers in your region. 
7. Produce Quality Content 
Google produces the best results for its users, and that is why creating quality content is important if you want your content and business to be on top of the Google search engine. 
The higher a page's rating, the more people can see it, resulting in increased web traffic.
This is yet another proven local SEO tip that can easily be done. But what can you do to rank in Google search results and local maps?
On your website, you have all the information needed to inform your local target customers, such as your address, contact information, and more, but you can make it better by creating "local quality content" that is educational and helpful to the readers. 
Producing excellent local content relevant to your area or what is happening in your society will help you increase web traffic and prominence in your community. Of course, producing local content will take time and effort, but the good news is that you can never run out of ideas or subject matter. 
8. Optimize Site Page Titles And Meta Descriptions
To write page titles and meta descriptions, you have to make them special. Don't make them too long or too short; you must follow the titles and meta descriptions right length. 
The title of each local SEO page should be between 50 and 60 characters long.
If your page's title is less than 60 characters, it will appear correctly on the search engine results page (SERP). However, if it has so many characters, a portion of it will be cut off, and users will be unable to read it in the search results.
When creating meta descriptions for your local business website, make sure each one is distinct. With the definition unique to the page in question, aim for about 160 characters. 
Make the text interesting and interact with locally appropriate keywords so that search users are enticed to click to learn more. 
The meta description does not significantly help in SEO. However, a convincing explanation will persuade local search users to visit your local business website after clicking through the search results.
9. Add Local Business Structured Markup. 
Business structured markup is vital for helping Google better understand the content and help increase clicks, impressions, and conversions. Local business structured markup tells Google that your business should appear in local searches rather than global ones. 
An information graph card containing info about your company can be viewed when users search for it in Google search or maps.
That's why you should implement structured data types like local business, reviews, business address, and more to improve your business's performance in Google search results and local maps.
Even though social media isn't a ranking factor on the surface, it holds weight when you dig deeper. It has an indirect positive impact on a page's search ranking. 
According to Google, popularity is determined by various factors, including the number of connections a company has, the number of articles it has been listed in, the number of directory listings it has, and so on.
As you can see, many businesses are devoting their time in social media advertising. 
Getting active on social media and encouraging people to talk about you, connect with you, link to you, and mention you will help you gain a foothold in your community. Basically, you want to create a buzz. 
To make your business stand out in the local area, you can start by spreading information and updates on your local newspaper, get secure guest blog spots to build your authority, and produce content on your social media. All of this will help you build a good social media presence. 
Do you have local SEO tools you use to maximize your opportunities? If none, we have something for you!
Local SEO software
Local SEO software allows companies to market their goods or services to potential customers in their immediate area. Businesses discovered that they could be much more competitive in a local market than in a national market. 
SEO tools can be a valuable resource and proof that the company is well-positioned to be sought by interested customers on a regular basis. This form of program assists companies in being included in the Local 3-Pack, a group of listings at the top of a Google results page shown in a separate list and includes a map.
Consider using one of these effective local SEO software to improve your go-to-market tactics and keep your company ahead of the competition.
SEMrush
SEMrush is a full SEO platform with local SEO products and resources such as local citations. Keyword research, backlink checking, and competitor analysis are three of SEMrush's most common tools.
SEMrush is a user-friendly tool. You must first enter your business information and locate the state of your listings. For each directory website, the tool can display a list of your listings and their current status. SEMrush can do the rest after you've made the required changes, automatically updating your listings. Semrush currently has three standard monthly subscriptions starting at $119.95 per month. 
Moz Local
Because of the company's reputation in the search industry over the last decade, Moz Local is perhaps the most common local SEO tool on this list. 
Moz Local helps you improve your business's local exposure and ensures that your listings are accurate, reliable, and available throughout the site. For as low as $129 per listing per year, Moz can detect and correct inaccuracies, suggest that duplicate entries be suppressed or closed, and point out other inconsistencies that are preventing your business from being found on Google.
GrowthBar
In 2020, growth marketers Hailey and Mark launched GrowthBar as an SEO Chrome extension. GrowthBar will help you discover crucial data points and insights to drive better marketing results for your company, from keyword research to backlink analysis to rank tracking. You can get their service starting at $29 per month.
They also have a Google Chrome Extension that analyzes SEO directly from Google search results. You can use Google to find any keywords you want, and GrowthBar will give you the information you need, whether it's for keyword research, competitor analysis, or other purposes.
Conclusion
Our local presence online is vital to keep our business running and gain customers. With technology today, there are so many ways how we can make our business compete with the local SEO tips we can apply.
If you are one who is trying to boost your visibility in a local search position, you need a comprehensive understanding of what to do to keep your business upfront. Try following the local SEO tips above and be consistent with them to keep you growing.